| | |
| --- | --- |
| | The most up-to-date information for Canadians living with HIV can be found on the CATIE website. For more basic information, see below. |
HIV Prevention: New Options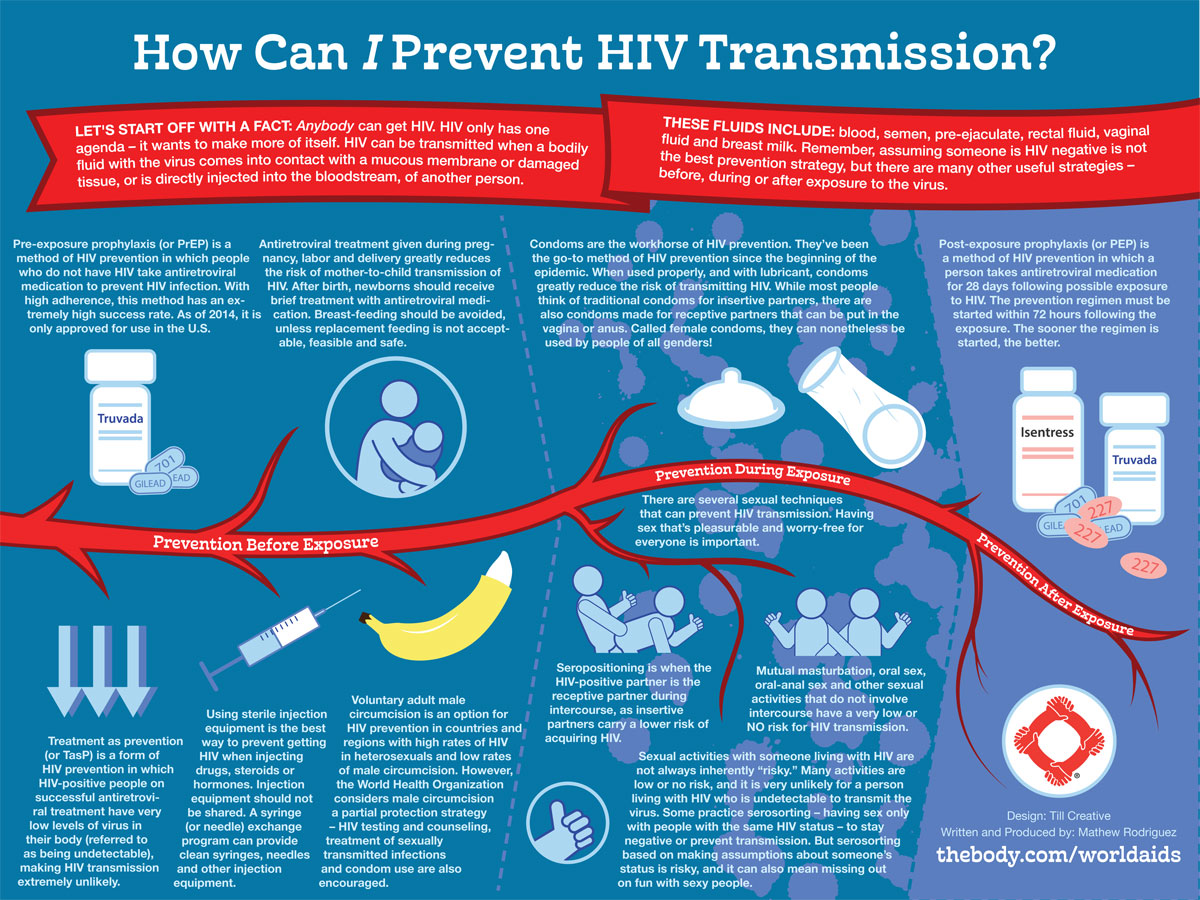 We now have more options when it comes to preventing HIV transmission or significantly reducing the risk of transmission. Condoms. Undetectable viral load. Pre-exposure prophylaxis (PrEP). Post-exposure prophylaxis (PEP).. But just how effective are they?
Three decades of HIV awareness campaigns have instilled a very clear and consistent message to the public: condoms are the most effective way to prevent an HIV infection. However, in recent years, multiple studies have confirmed that maintaining an undetectable viral load through the consistent and correct use of antiretroviral treatment (ART) by people living with HIV dramatically reduces the risk of HIV transmission. The reduction is so great that ART can now be offered as a highly effective HIV prevention option. The same is true for pre-exposure prophylaxis, or PrEP. Studies now show that the consistent and correct daily use of the anti-HIV drug Truvada by an HIV-negative person can dramatically reduce their risk of acquiring HIV.
In response to a need for clear and accurate messaging about the effectiveness of HIV prevention methods, CATIE has published three new statements, that provide useful information to help you understand and determine what options you should consider:
Additional Resources:
Interventions that may reduce the risk of HIV transmission
New HIV Prevention Options
Are Condoms Over? Research and Reality for Gay Men
Communicating HIV risk
HIV Testing
You can get anonymous HIV testing at Peel Public Health.
Should you take the test?
For many people, HIV testing is important because they want to know their HIV status (whether they are infected or not infected with HIV). If they find out that they have HIV they can take steps to remain healthy. To make the decision to be tested, you need a clear understanding of what the test is and what the results mean. No matter what you decide, having safer sex and safer drug use will reduce the chances for putting yourself or someone else at risk for HIV infection.
About the HIV Test
You may have heard this test referred to as an "HIV test", or an "AIDS test" but in fact it is a test for HIV antibodies. Antibodies are made by the body as a result of infection with HIV. Since the HIV test looks for antibodies and not the actual virus, you need to wait until antibodies are made by your body.
The period of time from the time you are infected with HIV to the time when the antibodies appear in your blood is often called the window period. During the window period, an HIV test may return a "false negative"; it may incorrectly say that a person who is infected with the HIV virus is not infected with HIV. The window period varies for each type of test and for each individual. In general, tests that only detect anti-HIV antibodies have a longer window period than tests that detect the virus itself. The window period for screening tests used in Canada (rapid tests and fourth-generation tests) can exceed one to three months in some individuals. However, in the majority of people, these tests can detect HIV within one month of infection.
There are also new HIV tests that can detect the virus (instead of the antibodies the body produces). The p24 antigen test detects an HIV protein called p24. This test can detect HIV in the blood 10–14 days after infection. However, the protein peaks at three to four weeks after exposure and is undetectable after five to six weeks. Therefore, this test is useful for people who may have been recently infected. Some tests combine the antigen and antibody tests.
There are two types of HIV tests available in Ontario:
A standard HIV test: A clinician will take a sample of blood from your vein and send it to an Ontario Ministry of Health lab. They will get the result back from the lab one to two weeks later. You must return to the clinic to get your result.
Rapid Test: This involves pricking your finger and taking a drop of your blood for testing while you wait. The entire process, including counseling, takes about 20 minutes.
I don't want to go to my family doctor. Where can I get anonymous HIV testing?
To get tested anonymously in Peel, you can go to any of the Healthy Sexuality Clinics listed below. In other cities, call sexual health phone lines or a local AIDS organization. Remember, there is a big difference between anonymous and confidential testing!
Anonymous testing in Peel is offered only at Peel Public Health Healthy Sexuality Clinics (not at your family doctor's office or walk-in where you need to use your Health Card.)
If you choose anonymous testing:
You won't need to show your Health Card.
Only your first name will be used.
Your address isn't necessary.
You'll receive counseling before and after the test.
Only you will get the results in person.
No record will appear in your regular medical chart.
Finally, know that it is your right to determine who finds out your HIV status. Schools, workplaces, friends, and family don't have to right to know unless you want them to.
Anonymous HIV Testing (including the Rapid Test) Locations in Peel – Peel Public Health Healthy Sexuality Clinics (Detailed information on hours (drop in and appointments) can be found at Peel Public Health.)
Mississauga
325 Central Parkway West, Unit 21 (905) 270-0587 See on map
6975 Meadowvale Town Centre Circle (905) 270-5662 See on map
Brampton
150 Central Park Dr., Ste. 09 (Civic Centre) (905) 791-5905 See on map
Caledon (Bolton)
18 King St. E, 2nd Floor (905) 791-5905 See on map
Malton
Westwood Mall – Lower Level (B7), 7205 Goreway Dr (905) 678-0788 See on map
Your test results
A confirmed positive test result means that you have been infected with HIV (i.e. you are HIV-positive / HIV+) and you can pass the virus on to others if you have unprotected sex or share needles/works. It does not mean that you have AIDS or that you will develop it; it does not tell you anything else about the state of your health.
A negative test result means that there were no HIV antibodies in your blood at the time of your test, and you were not infected with HIV (you are HIV negative / HIV-). It does not mean that you are immune to the virus or that you cannot become infected in the future.
What you can do if you test HIV-positive
If you find out that you have HIV, there are things that you can do to maintain your physical, mental and emotional health. A health care provider who is knowledgeable about HIV can monitor your health and help you decide when to begin taking medications that can help fight HIV. HIV/AIDS service organizations (ASOs) such as PHAN can provide a wide range of practical, emotional and social support services, help you get more information about living with HIV, and refer you to other services.
Practicing safer sex and/or safer drug use are also important. Not only will this reduce your chances of passing HIV on to others, but this will help reduce your chances of getting other infections that can be bad for your health.
Before you test… some things to consider
Your risks for HIV infection: Based on your own sexual or drug using history, counseling before you take the test will help you to assess the risks you have taken, and inform your decision to test. Ultimately, it is your choice whether or not to get tested for HIV.
Anonymous HIV testing: Anonymous HIV testing uses a number or a code on your test – not your name. Only you will know your test result, or even that you were tested. Anonymous testing is different from HIV tests performed by your doctor, or at certain clinics, where your HIV test results will be linked to your name. To find out the location of your nearest anonymous HIV testing site, contact PHAN, or call the AIDS and Sexual Health Infoline at 1-800-668-2437.
Counseling before and after the test: Before the test, you need someone to answer all your questions, and make sure you know exactly what the test means, so that you can make an informed decision about testing. After the test, whether you test HIV-positive or HIV-negative, you need someone to help you be realistic about the results, and take effective steps to remain healthy.
Are you getting an HIV test for employment or insurance reasons?
No employer in Canada has the right to require HIV testing in order for you to get a job, nor can an employer demand information about your HIV status. However, insurance companies may require an HIV test in order to get coverage. If so, you might want to receive anonymous HIV testing and counseling first, and, if you find out that you are HIV-positive, withdraw your application to protect your confidentiality.
Are you pregnant?
All pregnant women in Ontario are offered HIV testing as part of their prenatal care. When pregnant women with HIV are diagnosed early, they can receive treatment for themselves which will help prevent mother-to-child HIV transmission. In the past, about 25 per cent of babies born to women with HIV were infected. With prenatal testing and treatment, fewer than two per cent of babies born to women with HIV are infected.
It's normal to feel anxious about getting an HIV test. Having a trusted friend, partner or family member come with you when you get tested and when you get your test results may help reduce some of the anxiety.
Need more information on HIV Testing?
If you're unsure about testing, perhaps you may need more information or counseling to help you deal with the issues of testing and the possibility of an HIV-positive test result. You can contact PHAN to get more information or to speak with someone. Call 905-361-0523 or visit our office.
---
Source: adapted from 'HIV Testing' materials of ACT.